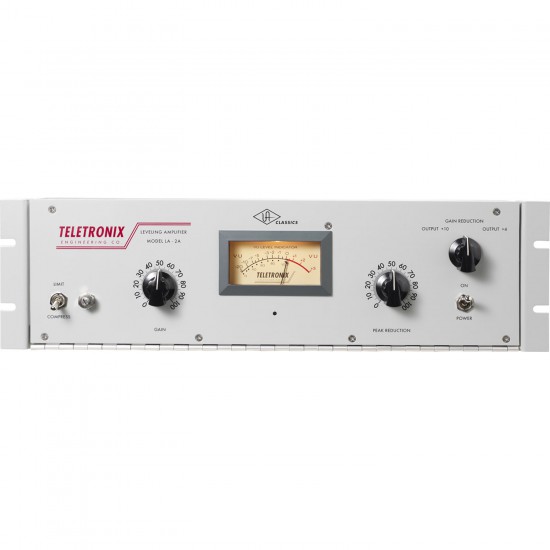 LA-2A
Teletronix LA-2A Classic Leveling Amplifier

True to the Original Design, our Famed Tube-Amplified T4 Electro-Optical Classic Compressor

Audio professionals revere the LA-2A. The original was immediately acknowledged for its smooth, natural compression characteristics. A unique tube-driven electro-optical attenuator system allows instantaneous gain reduction with no increase in harmonic distortion an accomplishment at the time, still appreciated today. This faithful Universal Audio reissue marks the rebirth of the Teletronix LA-2A. Painstaking care has been taken to ensure that every new LA-2A provides the performance characteristics of the original. Each unit is point-to-point hand-wired and built in Scotts Valley, California, with every component carefully evaluated for authenticity. As a result, today's LA-2A will bring the same legendary compression characteristics of the original to all of your recordings.

* True to the original LA-2A in design, manufacturing and performance
* Lag free, distortion free optical attenuator system
* 10 milliseconds attack time
* Hand-built in USA; backed by 1-Year limited warranty

Each unit is hand-built and hand-wired in-house at UA with each component being carefully evaluated for authenticity. No expense has been spared to guarantee that this LA-2A will bring that classic sound to your recording. Demand the original. Accept no copy.
Stock:

In Stock

Model:

LA-2A

Universal Audio