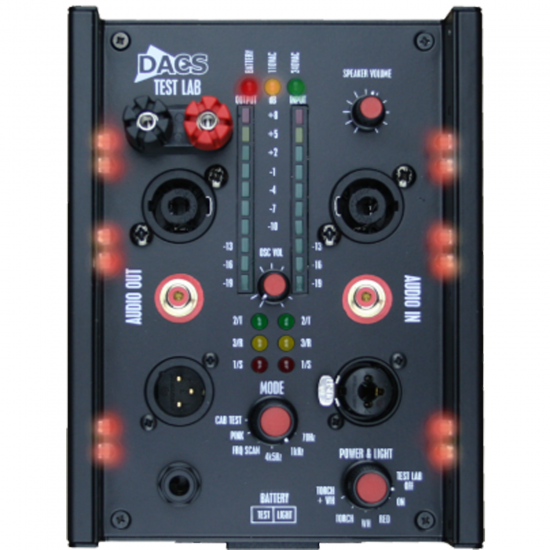 Audio Test Lab
The new pocket-sized DACS Audio Test Lab is now shipping. With this great new Test Lab, it is no longer necessary to spend time wondering if a cable is corrupted when you can plug it into this audio test lab tool, and know instantly. This is a unique, one-stop fixing solution for all pro audio engineers. It was conceived and developed in the field by DACS' specialist installation engineers to provide swift, but rigorous fault investigation using fundamental testing routines.

Key Features:

Cable Connectors - tests for correct pin wiring either on the box or with remote plug automatically cycling through the connections to reveal reversals, shorts, and open contacts.

Cable Integrity - tests signal path,
connections, and wiring both locally and remote for phono, TRS jack, XLR, and speakon (with 26dB pad). The incoming signal level is indicated by a 10 LED bar graph; the signal content can be auditioned for anomalies on the built
-in loudspeaker.

Signal Generation - can send variable level tone (70Hz, 1kHz and 4.5kHz and repeating sequence of all three) or Pink Noise to external units and loudspeakers.

Power Test - the IEC mains input can be used to power the unit, but doubles as a universal power tester indicating the presence and voltage (110VAC and 230VAC± 10%) of a live input.

Illumination - LED light (white for detail, or
red to maintain night vision) for soldering or checking connectors; front LED flashlight.
Stock:

In Stock

Model:

Audio Test Lab

DACS