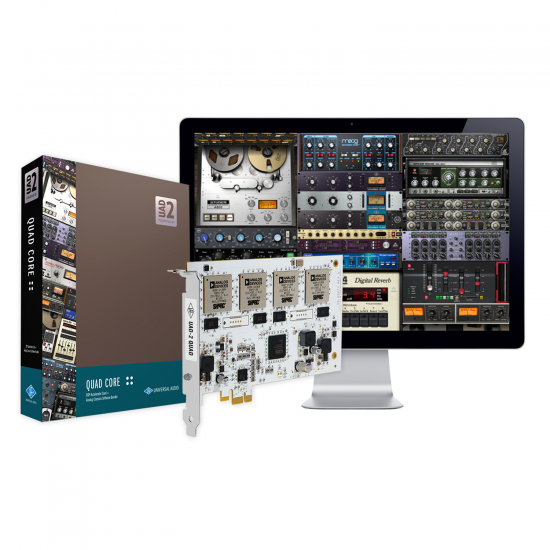 UAD-2 QUAD Core
UAD-2 QUAD DSP Accelerator Package

The Ultimate in UAD Powered Plug-Ins, with QUAD Processing Power. Includes Analog Classics Software Bundle.

The UAD-2 QUAD is Universal Audio's most powerful processing package, giving producers and engineers full access to award-winning UAD Powered Plug-Ins on Mac or PC. This DSP accelerator package includes several of Universal Audio's most popular analog classic plug-ins the LA-2A and 1176 Compressors/Limiters, and the Pultec EQP-1A for rich, vintage sound quality right out of the box. Thanks to its PCIe card with four SHARC processors, the UAD-2 QUAD provides four times the processing boost of the UAD-2 SOLO, allowing for the largest professional mixes. Better still, it gives users full access to the UAD Powered Plug-Ins library, including some of the best-reviewed plug-ins of all time.

* Flagship quad-processor DSP Accelerator Card for UAD Powered Plug-Ins on Mac or PC
* Includes Analog Classics plug-in bundle, featuring LA-2A Classic Audio Leveler, 1176LN / 1176SE Classic Limiting Amplifiers, Pultec EQP-1A and Realverb Pro plug-ins.
* High-bandwidth Firewire DSP Accelerator w/ (4) Analog Devices SHARC processors
* Includes $50 voucher for plug-in purchases via UA's Online Store

Specifically, the UAD-2 QUAD provides access to popular UAD plug-in titles from Manley, Empirical Labs, Neve, Roland, BOSS, EMT, Fairchild, Harrison, Helios, Little Labs, Pultec, SPL, Teletronix and more (sold separately). Whether you use Cubase, Nuendo, Logic, Digital Performer or Pro Tools, these UAD-2 plug-ins can inject the character and quality of classic hardware into your mixes, while freeing up your computer's internal processor for other mixing duties.

Mac- and Windows-compatible, with support for VST, Audio Units and RTAS, the UAD-2 QUAD is easy to use. Just install the software, install the card, and start mixing.

Developed by the industry's finest engineering team, and backed by frequent new software and plug-in releases, the UAD-2 is the processing platform of choice for many of the world's top musicians, producers and engineers.
Stock:

In Stock

Model:

UAD-2 QUAD Core

Universal Audio