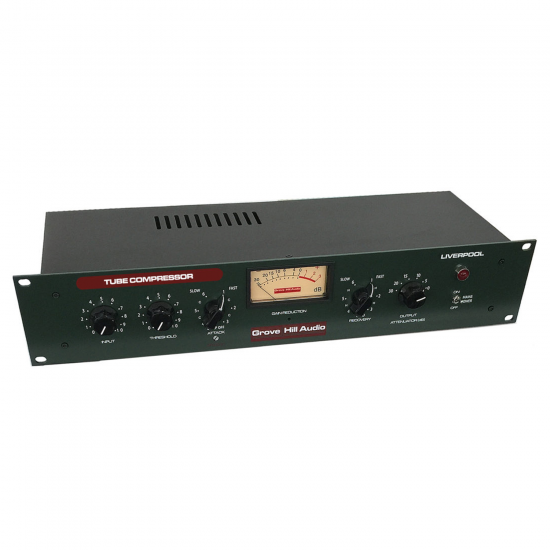 LIVERPOOL
Grove Hill Audio introduces the LIVERPOOL, a hand assembled, all-tube feedback compressor.

Tube compressors were first introduced in the early 1930's, and became widely used in the USA and Europe in the 60's. An American Mu tube compressor found its way to England were it was improved with several modifications; these units are still in use today. These rare iterations have never been commercially available. For years there's been much curiosity surrounding the actual modifications made to these famous compressors. To differentiate the modified units, the original green front panels were painted gray and a new model number was assigned.

In the spirit of the elder engineers, we respectfully took liberties and made subtle circuit and control modifications that make this compressor very special. We listened carefully and tweaked it over and over to capture the vintage tone and vibe that make it unique. We then twisted knobs and pushed the tube circuitry, exposing additional creative capabilities.

Then we did a little hot rodding to the Liverpool – you can push it harder on the front end and the back end creating a useful creative tool. This is why the product is unique and NOT a clone. It is a hybrid of both the American compressor and the British modified compressor with modern enhancements, carefully thought out in the spirit of the original Mu tube compressor, but new to the market with additional design enhancements.

The LIVERPOOL compressor took well over a year to recreate the sonic character relative to the units still in use at world famous recording studios. Custom wound input and output transformers (Made in the USA), critical component choices and circuit layout were all carefully considered in developing a reliable creative tool for a wide variety of instruments, vocals and program sources.

Technically, the LIVERPOOL uses a medium Mu, semi-remote cutoff twin triode tube as the gain reduction element. This tube is re-biased by the 6AL5 vacuum tube rectified side-chain control voltage which causes the Mu tube to smoothly change its mutual conductance, providing the change in gain.

The faithfully recreated Liverpool power supply provides low noise and stability even at 30dB of gain reduction.

Our passion is to share this wonderful compressor, at an accessible price, with the creative recording arts community. Because tubes for this compressor are in short supply, we are building the compressor in limited quantities.
Stock:

In Stock

Model:

Liverpool
Grove Hill Audio