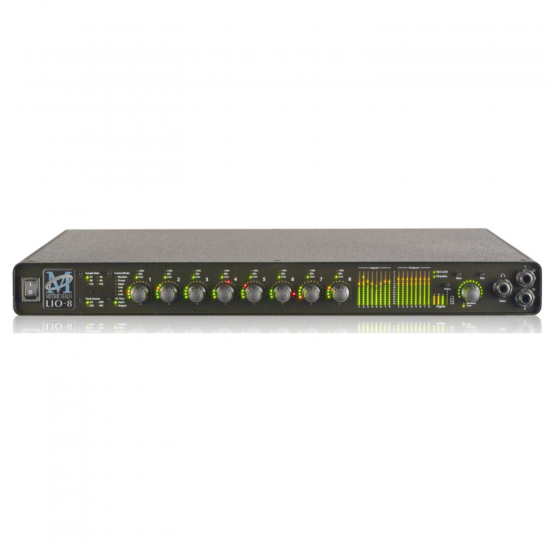 LIO-8
The best of everything you need, without the stuff you don't!
When we introduced the ULN-8, people raved about the sonic quality, the features, and the power of our architecture. We also heard from the people that have their own "go to" mic pres, people that use analog consoles, and those that edit but don't record. They love the ULN-8 too, but didn't need the mic pres.
We heard you. For you, we have the LIO-8.
The LIO-8 incorporates the same Metric Halo Audio technologies in the ULN-8 including:
192k sample rate support for both Analog and AES Inputs and Outputs
New DC-coupled, zero phase distortion, servo balanced Line Inputs and Outputs
Fully clickless remote controlled Monitor outputs
All LIO-8 analog outputs incorporate Metric Halo clickless remote technology allowing for flexible monitoring applications from stereo to 7.1 surround.
Expandability
As with all Metric Halo products, the LIO-8 features an upgrade path. Or two.
While the base configuration of the LIO-8 doesn't include mic pres, you can opt to have 4 or 8 channels of the same ULN-R mic pres as the ULN-8 included in your unit. The LIO can be ordered this way from the factory, or the pres can be installed later.
You can also choose to upgrade your processing by adding the +DSP license, which adds over 100 plug-ins to your LIO and gives you the ability to create and save complex processing "graphs" as well as access to factory supplied "macros" including processors, amp simulators and more. You can find out more about +DSP here. Adding +DSP to your LIO is easy, just put the software license code into MIO Console and your box is unlocked.
LIO-8 Key Benefits at a Glance
Exceptional, Best–In–World, Archival Grade Converter Quality
Flexible, Integrated Analog-Domain Monitor Controller
Universal Sample Rate SupportAnalog, AES and Firewire Interfacing
Rock Solid Stability: Mature, Real-World-Tested Firmware, Software and Drivers
Instant Access to Tactile ControlsFully digital control for total recall, remote control and control surface support
Comprehensive Precision Metering — so you always know what is going on
Works with or without a Computer
Metric Halo's Exclusive Per-channel selectable Character — from ultra clean to nice and gooeyIntegrated ultra-low-latency instantiable processing with plenty of DSP power to run it
Most Compact, Lowest Weight, Lowest Power and Lowest Price in its Class
Suite Solution
With everything you need to record, mix, process, and master audio (just add your DAW of choice, analog front end and transducers), the LIO-8 is your one-stop solution for recording, edit, mix and mastering suites. Even if you are using a DAW or recording system that does not support the LIO-8 Firewire interface, the unit's standalone operation and standard AES and analog interface allow you to use it as the Audio Front End and Monitor Controller for Pro Tools, standalone and PC based recording systems.
The Ultimate Digital Upgrade
The LIO-8 is a great way to upgrade your audio system. Put it between your existing gear and your DAW to get all of the benefits of our analog design, conversion technology and DSP without ripping your room apart. Adding a LIO to an analog console is like buying new converters and getting a digital mixer with total recall for free. Using our ConsoleConnect technology you can insert EQs, compressors, gates, reverbs and more into our v.5 Mixer and have all your routing and settings recalled with your DAW session.
Stock:

In Stock

Model:

000-50007

Metric Halo